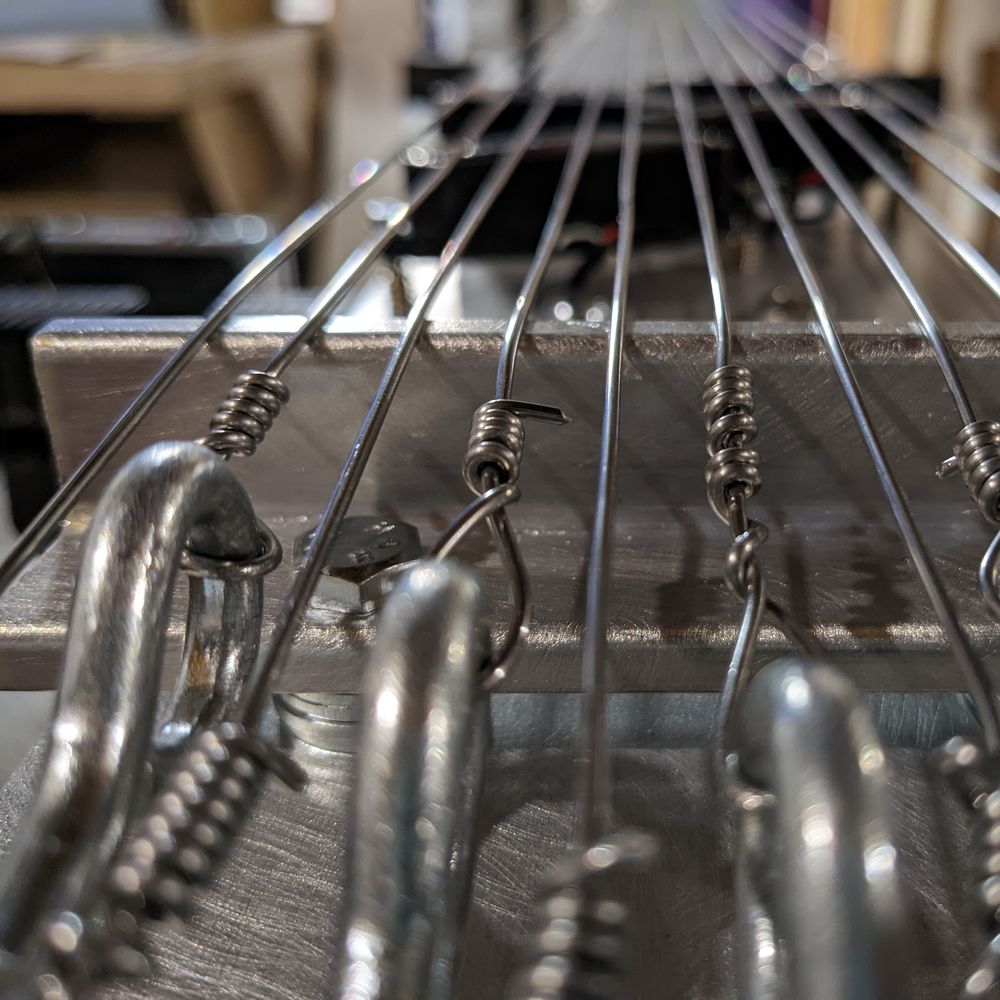 Null Beam
An electric concept instrument
The Null Beam is a 6 foot, 11-string aluminum electric concept instrument, inspired by Mickey Hart of the Grateful Dead. Built from T6 Aluminum, strung with piano wire, and amplified with humbuckers and piezoelectric contact mics, the Null Beam is an experimental sonic playground.
This version of the Beam was built in 2022 based on a design, part list, and discussions with Karl Learmont, AKA Angelspit.
Frequently Asked Questions
How many strings does it have?

11 strings, each are 24 gauge piano wire.

What's it tuned to?
Why not mix gauges, like 12 and 24 for octaves?

Tried it, it was harder to keep in tune and differing heights made it inconsistent.

Why not tune it to a 5th like power chords in a guitar?

I'm worried about it being muddy and it's frankly a pain to tune.

Why not use wrapped wire?

More expensive and I wanted to MVP with something simple. I'll probably try more performance options. I need to be careful of how low it gets, though, this is supposed to be a creative instrument, not a fart generator.

Why aren't there any potentiometers to control levels like a guitar?

Anecdotally, it's set and forget. I do my mixing digitally and I'm mostly recording it, so a lack of controls meets my needs.

Where are the contact microphones?

One is under the neck, and the other is about midway down.

What would you do differently if you did it again?

Get guitar pickups instead of bass pickups (4 x 2 = 8 vs 11 strings, what was I thinking?). Skip drilling a mounting hole, I put it on a pair of camera stands which were really wobbly, then put it on cheap plastic sawhorses which were just fine.

How much did the project cost?

Roughly $300-400. Shop around for the parts. I got some hardware in bulk from Tractor Supply and found a coupon for the aluminum. I got no-name pickups, which can be very expensive.

How long did it take to put it together?

It was spread out over several weeks due to life and work. Roughly 10-20 hours, I didn't log it.

What do you use it for?

Big, lovely pads. Drones (this thing loves to pedal). Solo Instruments (especially with distortion). Sound Effects.

Why?

I use a lot of digital instruments in my music. They can be expressive, but lack the tangible connection from being able to directly manipulate the sound. I do have multi-touch controllers with plenty of knobs and faders and so many different ways to affect the instruments, but that's very different from live performance with an actual physical instrument.
It also sounds really cool.
Parts List
Adapted from Angelspit's Blaster Beam
Body & Performance
Beam - 1 x 6061-T6 Aluminum Association Channel - 5" x 2.25" x 72" x 0.15"
Bridge & Neck - 2 x 6061-T6 Aluminum Equal Leg Structural Angle - 1" x 1" x 5" x 0.25"
Tuning Stock - 2 x 6061-T6 Aluminum Equal Leg Structural Angle - 1.25" x 1.25" x 5" x 0.25"
LH Slide Cylinder - 1 x 6061-T6 Aluminum Round Tube - 2.25" x 12" x 0.125"
RH Striker Cylinder - 1 x 6061-T6 Aluminum Round Tube - .5" x 12" x .120"
Hardware
Tuning Bolts - 11 count of Steel Eye Bolts With Nuts, ¼"-20 coarse thread, 4" length
Lock Nuts (tuning) - 11 count of ¼"-20 coarse thread Stainless Steel Nylon Lock Nut
Structural Bolts - 15 count of 1½" ¼"-20 coarse thread, ½" collar, 1" thread Stainless Steel Hex Bolts
Washers - 36 count of ¼" inner diameter
Piano Wire - 1 lb of 24 gauge piano wire
Bass Pickups - 1 pair of FLEOR Alnico 5 P
Humbucker Pickups - 2 count of Musiclily Dual Hot Rail High Output Guitar Single Coil
Pickup Mounts - M3 Male-Female Brass Spacer Standoff & Stainless Steel Screw Nut Assortment Kit
Contact Mic - 2 count of 27mm Piezo Discs with Leads
Audio Sockets - 5 count of Jack Neutrik Rean ¼" Long Shaft with Nut and Washer
Snake - 20' length of 8-Channel ¼" TRS Male to ¼" TRS Male Snake 26AWG Cable
Bow - 4/4 Horsehair Violin Bow & Rosin
Tools
Deep Socket Wrench (tuning, connection)
String Loop Block (winding)
Wheel Brass Wire Brush (cosmetic)
Metal Clear Finish Coat (sealing)